Created by a LOVING FAMILY.
Inspired by Grandma's soap saver, POPPIES developed from a real need for a better teether. We quickly realized the unique sensory play value from the suction cups and immediately went to work to develop the safest sensory toy for your child.
what makes poppies different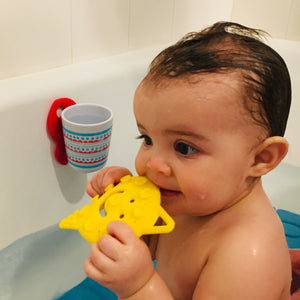 We make teething, bath, & playtime fun
The patented suction cup feature of Poppies promotes safe and sensory stimulation. The playful designs inspire a positive learning experience.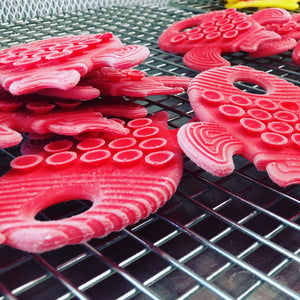 We do all of the research & development
Poppies are thoughtfully designed by a professional team that specializes in creating innovative products that stimulate your child's senses.
Learn More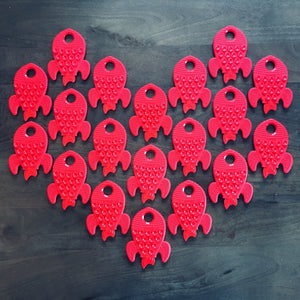 We care & strive to make a difference
Poppies are made in the USA and 3rd party quality tested to ensure that children of all abilities can enjoy every feature of our products.
Testimonials
Bought as a gift. After soon to be mommy opened gift, soon to be daddy continued playing with it the whole time we visited. I think it will be a real hit once baby arrives and gets to use it!

Kimberly H.
Such an awesome teether toy, I even as a 30 year old woman enjoy playing with it!

Rebecca J.
Such a fun toy for kids, and parents. My son who is 8 months loves it for teething and playing with the different textures. My daughter who is almost 4 loves to throw it to see what it will stick to. This toy is versatile and fun. Highly recommend!

M. Spivak
What a great concept. My son loves chewing on it. He likes to stick it everywhere and his older brother likes to throw it at the fridge to see if it sticks. It's a lot of fun and a great teething toy.

Adreana G.
My 5 month old loves it!!!

Melissa H.
Got these at a convention this weekend and they are great! It was suppose to be for the baby, but my 3yr old and 8yr old keep playing with it too.

Michelle
My two boys love this product, they play with it when they take a bath. Great quality and cool design.

Larry M.